FEMME BERCEAU DE L'ABONDANCE (FEBA) is our key Congo partner.
Femme Berceau de l'Abondance or FEBA, (French for Woman Cradle of Abundance) began in 1999 when an ecumenical group of Christian women in Kinshasa, Democratic Republic of Congo, organized their own non-profit to respond to systemic poverty and violence against women in the DRC. Led by its visionary president Mme Monique Misenga Mukuna, Femme Berceau de l'Abondance has created a community where women gather to share their stories and envision breaking the cycle of poverty and violence. The name they chose comes from the Bible verse John 10:10 in which Jesus says that He has come to give life abundantly. The founders of FEBA see that women – although themselves systematically marginalized – are called to be the cradle for God's abundance and, acting in Christian faith, they are courageous enough to answer this call.
The primary goal has always been consciousness raising, enabling women and girls to imagine and claim a worldview that values and welcomes their contributions equally with those of men. Opening new perspectives and possibilities is a key to changing lives and society. The related goals involve developing ways to achieve practical abundance through the three "stairs to success": safety, education, and economic empowerment. These have been implemented in a more systematic way since the reorganization of Femme Berceau de l'Abondance in 2010. FEBA offers a multifaceted approach to tackle complex and systemic problems of violence and poverty, and to empower women and girls to effect widespread, grassroots change.
Officers & Leaders
Monique Misenga Mukuna – President
Bitota Angelique Ngoyi – Treasurer
Jeannette Adiyo – Head of Sewing School
Antoinette Muleka Tshisuaka – Medical Care and Life Skills Education
Henriette Kibadi Nzeyi – Medical Care and School Children Program
Ernestine Mianda Kashala – Literacy Teacher
Denise Ngome-Sakisa – Pastoral Counselor
Emerita
Marie-Jeanne Kapinga Kayuwa – Secretary Emerita
Agnes Anekumba Umadjela – Treasurer Emerita
Monique Misenga Mukuna
Monique, the president of Femme Berceau de l'Abondance, has been the visionary, the networking genius, and the motivating center. Growing up as one of fourteen children, Monique was fortunate to have a Christian father who did not share his society's gender bias and who chose to educate his daughters as well as his sons. Monique excelled in secondary school and went to the university in Kinshasa. She graduated well and began her career as a teacher and then principal at the secondary level. Monique met and married a man much like her father, one who shared atypical views about women and supported her work until his death in Jan. 2011. They diligently educated all nine of their children; the youngest graduated from university in 2017.
To support their growing family, Monique decided to leave teaching to begin a tailoring business, which yielded early success. Monique was also chosen to represent her Presbyterian church as the new director for the Department of Women and Families, a position she would hold for the next fifteen years without compensation. To support her family and her continued work, she maintained her tailoring business. Over the years, Monique expanded the Church Center to include a tailoring school, training in agricultural practices and animal husbandry, education in women's rights, organization of micro-credit projects, programs to feed and assist street children with school fees and uniforms, and support and help for violated women and people living with HIV/AIDS. She represented her church as a leader internationally, including at the women's festival in Harare in 1998, and in the World Alliance of Reformed Churches and the World Council of Churches. She has spoken to European and North American audiences about the humanitarian crisis in the DRC, seeking reconciliation for the DRC as well as Sierra Leone and Rwanda.
Regrettably, Monique's growing international recognition was perceived as a threat by male church leaders, who eventually suspended her as Director of the Department of Women and Families in 2010. (In 2017 new church leadership recognized her ministry.) In 2010 Monique began to recreate her work for abused women and children under the aegis of Femme Berceau de l'Abondance, starting by taking eight women and girls and two babies into her home. She reestablished the sewing school in a covered courtyard of her own home, until the opening of the new Women's Center Tomisunga at the beginning of 2018. She gathers the members of FEBA, organizes educational opportunities for them, and continues to welcome and all who come to seek counsel and assistance.
Jeannette Adiyo
Jeannette is the head of FEBA's sewing school. She was the eldest of ten children of a family living in Kinshasa. Her parents died when she was 24 and she was left to care for her younger siblings. She married but because of ill health she did not have children of her own; however, she brought up her baby sister as her daughter. Jeannette completed secondary school with a major in sewing. After some years of caring for her family, she came to be the main partner of Mme Monique in the sewing school. She says she learned much from Monique, expanding her own knowledge as Monique creatively imagined more things that the women could sew and sell.
Jeannette is very concerned about the needs of the young girls – mostly illiterate – who come to the sewing school. She also emphasizes how essential it is for these totally destitute young women that the FEBA school provides the materials as well as the training. It is a big financial responsibility for the school, but it also means that those who had no hope can look forward to a good future.
Antoinette Muleka Tshisuaka
Antoinette serves as medical advisor and health/ life-skills teacher. She completed her secondary education and did further training as both nurse and laboratory technician. When she moved to Kinshasa with her husband, a doctor at the national blood bank, Antoinette also began work at the blood bank where she felt poignantly the plight of mothers bringing young children for transfusions, including treatment for sickle cell anemia. She observed that the burden of care fell consistently on mothers while father were glaringly absent. She also saw that the problems of sickle cell anemia caused enormous suffering to families, and works to help educate parents and the women and girls of FEBA to understand how the disease is inherited and avoid risky marriages.
For many years Antoinette has worked with Monique for many years. After her husband's death she was very much involved with the ministry of widows in the Presbyterian church. One of her main activities with FEBA has been assisting with the HIV/AIDS program of consciousness raising and accompaniment. She also is a teacher in the sewing school to provide general health education and "life skills" for the young women.
Henriette Kibadi Nzeyi
Henriette works with the AIDS program and the educational work for children who are studying in formal schools. Her childhood in Kinshasa was very difficult. Her great uncle was the chief of his village some distance from the city, and he controlled all the family. He owned some slaves, children sold away from their villages (perhaps to enable their families to survive a famine or pay a debt), and the son of these slaves was Henriette's father. Her mother was the niece of the chief, who insisted that his niece marry his slave so that he would control her children. (A slave no longer had his own family/ village which could claim the children.) It was not a happy marriage, though six children were born; Henriette was the oldest, with four brothers and one sister. Her mother left, her father remarried, and she and her siblings were abandoned. So Henriette could not complete secondary school, and she had to sell sugar cane or fruit in the street to support herself and her sister. She managed to get training as a nursing assistant to work at a hospital. Eventually she married a fine school teacher and they had six sons. Two have become mechanics, the others have gone on to higher education.
Henriette herself knows the challenges of living hand-to-mouth. She helps supplement her family's income by making jewelry and hats. One of her activities for FEBA is raising consciousness about HIV/AIDS and helping those who are living with the disease. She also maintains contact with the schools where orphans or destitute children supported by the non-profit are studying, and sees that their fees are paid, and works with the flour mill.
Ernestine Mianda Kashala
Ernestine Mianda is the literacy teacher. She was born and grew up in the Kasai but her father died when she was a baby. She and her mother and sister went to live with an uncle who was kind to her but other relatives sometimes mocked her. Ernestine Mianda attended secondary school for several years but her family lacked the means to enable her to finish. She married and moved to Kinshasa where she and her husband reared and educated their eight children through university (four have master's degrees). Though she lacked the high school diploma which is the only official certificate of education, Ernestine Mianda is intelligent and made very good use of what she knew and went on learning more. In time she was able to go back to school for some specialized training as a kindergarten teacher and then as a literacy teacher. She also helped support her family by doing a small business.
Ernestine Mianda's own childhood was not easy so she is very much concerned to help children whose families have not been able to care for them well and educate them. She is the lively teacher of FEBA's young girls. When the Tomisunga Women's Center is ready, FEBA will begin a remedial program for children who have been forced to drop out of school because they have no money to pay, to enable them to get up to grade level and return to school. Ernestine Mianda will be in charge of this program.
Denise Ngombe Sakisa
Denise is the pastoral counselor. She was originally from the Katanga, one of six children (five girls) in the family. Her father encouraged her in her education and she completed secondary school with a program in dietetics. She was married to a more highly educated man who had studied in Europe, and with him she lived in various African countries and Brussels. They had seven children, all of whom they have educated through university; one daughter is a medical doctor, several have master's degrees. Denise's husband abused her in many ways, physical and mental, and her in-laws mocked her as worthless for not being as well educated as her husband. Only her children were supportive. Denise had had a dream of further education and so she went back to study theology at university, and then (even as she struggled with ill health and family reproach) completed her master's. She would like to go on for further education in ethics and counseling. Denise is a powerful voice of preaching and counsel for abused girls and women.
Agnes Anekumba Umadjela
Agnes Anekumba Umadjela, the respected treasurer emerita of Femme Berceau de l'Abondance and its eldest living founder, completed the six years of primary school and then studied midwifery. In the period when she was growing up it was unusual for girls to continue to secondary school, which was conducted in French. They were lucky to receive any training beyond elementary school, and were usually married off in their early or mid-teens. After completing her midwifery training, Agnes began work. She interrupted this after her marriage, when the first of her eight children was born, but later returned to her profession. When Agnes' family moved to Kinshasa, she became a midwife at the General Hospital of Kinshasa where she worked until her retirement.
Born and raised a Methodist, Agnes has served her church in a number of different capacities, especially in women's groups as well as in the larger community. She has held various offices at the local and national levels of the Methodist Women's Association, and in the governing bodies of the United Methodist Church in the DRC. She has traveled in Kenya, and was her church's representative to the Harare meeting of the Decade of Churches in Solidarity with Women which was the catalyst for the founding of Femme Berceau de l'Abondance.
One key role Agnes has filled in all her work is that of counselor to women. She and her husband have a very good marriage and strong family life. Since family is at the root of every relationship in Congo, women, girls, and younger couples consult Agnes about their marital and family issues.
Marie Jeanne Kapinga Kayuwa
Marie Jeanne is the executive secretary emerita, a professional woman whose educational background includes studying administration in Belgium. She worked as a secretary at the Congolese embassy for several years, during which time she married and had her first two children. When the embassy downsized its staff, Marie Jeanne creatively set out to establish an international import business, buying luxury items in Europe and selling them in the DRC.
Marie Jeanne's small business was doing well when her unemployed husband persuaded her to let him play a role. He had plans to return to Kinshasa, the DRC's capital city, for his mother's funeral and took Marie Jeanne's goods with him, promptly appropriating her goods and living on the proceeds with another woman. Still in Belgium, Marie Jeanne found any way possible to earn a living for herself and her children and finally paid back her commercial loans. She returned to Kinshasa seeking a divorce, but because of negative connotations associated with divorce, her family and church convinced her to stay in the marriage. Marie Jeanne worked as a secretary in government civil service and had three more children with her husband, who never secured employment in spite of the many efforts of family members to help him. Finally fed up after twenty years, Marie Jeanne told him to leave, and when he dragged his feet she packed up his things and moved him out. She continues to work as a secretary in the administration of the national Parliament and has provided all of her children an excellent education.
Serving as a minister in her home church, Marie Jeanne became the director of women's work and the youth division. The Church of Jesus Christ Light of the Holy Spirit ordains women as pastors and deaconesses more readily than many African churches, but their leadership is not universally accepted, and she has seen and dealt with discrimination in her service. In her community, she seeks to encourage the growth of women's self esteem and independence at their weekly prayer meetings, including making food and goods for sale, and developing market gardens to support families. When the World Council of Churches launched the Decade of Churches in Solidarity with Women, Marie Jeanne represented her church internationally. Marie Jeanne's church and professional experience have made her an invaluable asset to Femme Berceau de l'Abondance.
CENEDI, the Center for Mentoring Children in Difficulties (Centre pour l'Encadrement des Enfants en Difficultés), is our second partner.
In 2006 a group of Congolese activists in Uvira, in eastern Congo, organized a non-profit to address the situation of women and children in their war-torn region where militia of many allegiances had been fighting for a decade. They named their project The Center for Mentoring (Encadrement) Children in Difficulties, with the French acronym CENEDI. Since the conflicts in the borderlands among Rwanda, Burundi, Uganda, and Congo began in 1996, the whole region has been unstable, racked with violence. Rape, hunger, the breakdown of almost all social services, especially schools and hospitals, are the story of daily life – and death. The main focus of CENEDI has been education.
Since 2007 CENEDI has been partners with the American school club Hands Across the Water. By 2019, thirty-two young men and women in eastern Congo will have studied from primary through secondary school, thanks to their American friends. In 2014, Hands Across the Water asked to become a branch of Woman Cradle of Abundance, Inc. Mme Monique of FEBA in Kinshasa and Mr. Innocent Nunda wa Nunda, the head of the Uvira project, met virtually and began a conversation which led to a new partnership between their non-profits in Congo.
Now linked to Woman Cradle of Abundance, the project in Uvira has expanded its activities to give more attention to the women of the community. The numbers of women and girls – as young as eight! – who have been raped in recent years in these small villages around Uvira is heartbreaking – over eighty! One was attacked again later as she worked in her field, gang raped and murdered. Mme Monique has sent money to help with women and girls; American partners at Woman Cradle of Abundance, Inc., support women's gatherings for recognition and celebration, and practical needs for medical care and food, and the beginning of income-generating projects such as sewing.
On June 16th annually, all of the students across the continent of Africa honor those lost in the riots of Soweto in South Africa in 1976. The students peacefully demonstrated against the new ruling that all teachers in South Africa be Afrikaans and limiting exposure to native South African history and culture. 176 students were killed in these protests and over 1000 were injured.
Due to CENEDI, the children of Kaboke Village in Southern Kivu are now able to join in this national holiday. The local celebration, hosted by CENEDI, provides songs and skits performed by school children to demonstrate the importance of attending school. The attendees and participants are given a hot meal and a beverage — often the only one they will have for days.
Officers & Leaders
Pastor Innocent Nunda wa Nunda — Uvira
Mr. Bahininiwa Saidia – Goma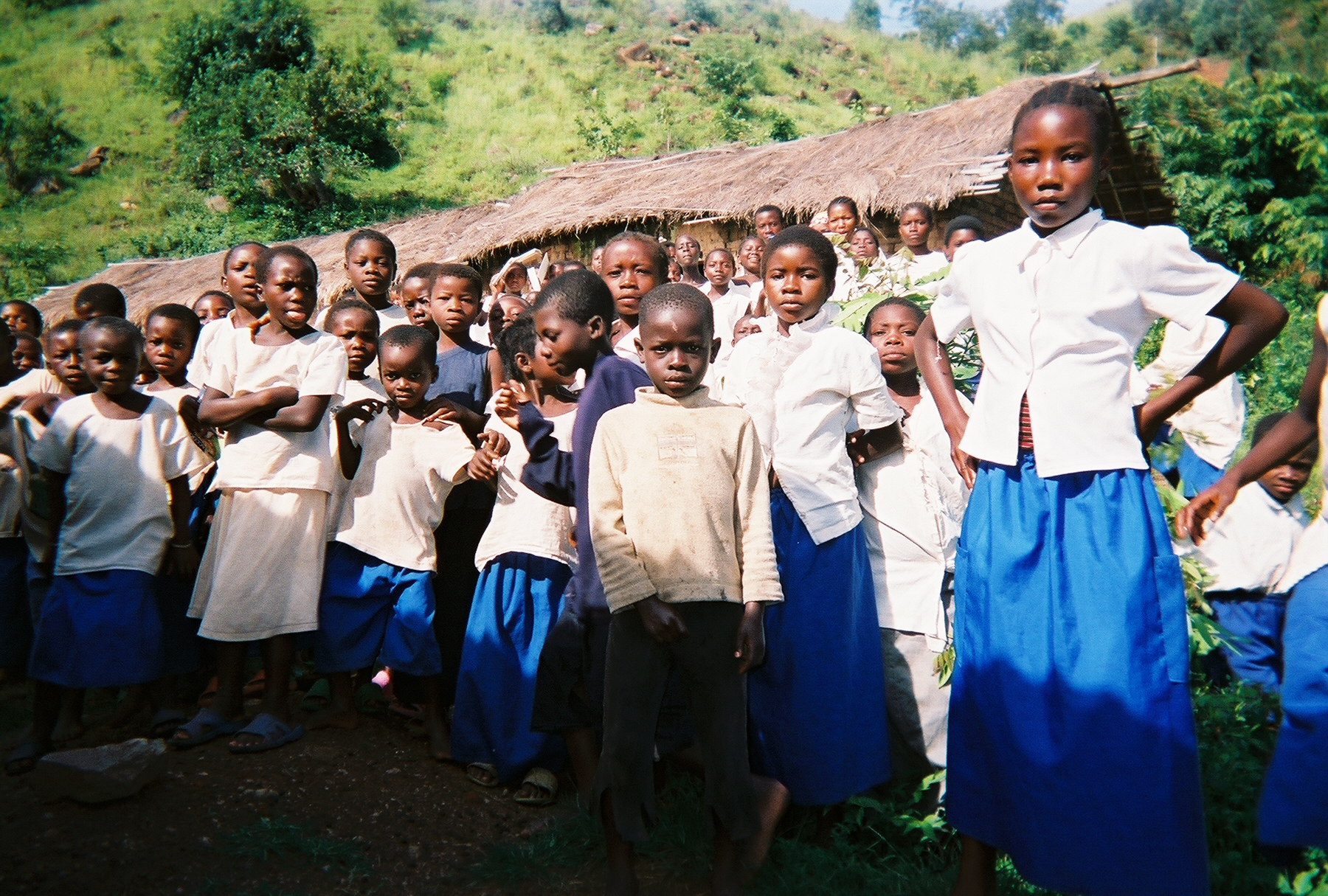 Empowering children on both sides of the globe to make a difference in the world.
The original members of Hands across the Water at Community Middle School in Plainsboro N.J. found themselves in a learning situation far surpassing classroom instruction as they began to form email relationships with students from a different world. In Africa the expression "it takes a village to raise a child" is quite literal. The students in Congo were invariably without support other than that being given by the local N.G.O. known as C.E.N.E.D.I. Email after email supported the fact that these same age students were living on less than a dollar per day. The culture in Congo dictates that one does not complain or share one's hardships with others, so it took a great deal of time for these children to open up and share with their new found friends.
Over time those in contact with Congolese students came to realize the level of poverty and suffering these children had endured. Responses to our email at times took weeks because they did not have money to share a computer at the internet café over the bridge, a 2 mile walk — or the bridge had been washed out by a storm or the power was off for two weeks due to the war in the area.
One 8th grader from CMS when asked about the American holidays sent a photo of his family gathered at the Thanksgiving Table in his home. His counterpart in Congo responded that he was extremely pleased to receive a photo of his friend's family, but wanted to know how many people from his village were going to take part in this feast. When told that only the people present in the photo were going to eat all of that food, his simple response was "WHY?" One Congolese child was asked about her favorite book and responded that she had never seen one.
The students wanted to help. With connection came compassion and a call to action.
Over the years "Hands" has grown into an international service club, operating in three New Jersey Schools, providing secondary education to 26 orphaned children from Kaboke in Southern Kivu province in the DRC, and funding Community Charity School in Goma, Northern Kivu. This region is known as the "Rape Capital of the World", an extremely dangerous and difficult place to be a kid. Children not attending school fend for themselves on the streets and often fall prey to militia groups looking for child soldiers, and young girls to live in militia camps to service the men by cooking, cleaning and sexual activity in exchange for protection and a roof over their head.
From the start of our interactions with CENEDI, we have called the children we support our "Starfish". As we provide for the needs of each student, we have changed the world for that child. We have given a child the gift of an education and allowed him to escape the chaos on the streets of the city where children all too often fall prey to violence or worse.
Scholarship support is not "free" for our high school starfish — it comes with strings attached. Students are required to "pay it forward" with community service. Our older students are helping the elderly in their village, volunteering at the clinic, teaching English and math at their local elementary school and helping CENEDI with its community events.